Why have a Preventive Maintenance plan?
Preventive maintenance can be a valuable tool in keeping an electrical system running smoothly. By properly maintaining a system, issues and potential problems can be identified and addressed before they affect or damage other systems. Identifying problems early can allow the owner to control when down time for repairs will occur and even eliminate down time all together. Controlling down time can help mitigate cost of repairs and loss of productivity to the facility.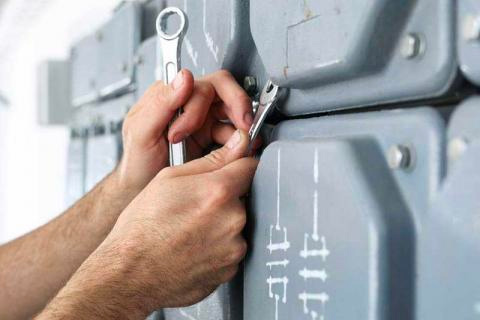 Electrical Preventive Maintenance is Cost-Effective
A well-designed preventive maintenance program is often going to cost less than dealing with electrical equipment failure. It is entirely normal and inevitable for electrical equipment and systems to deteriorate over time. Overloaded systems, severe conditions in the workplace, and excessive duty cycling can all accelerate electrical equipment failure.
The goal of a quality preventive maintenance program is to anticipate and prevent electrical failures. This is achieved by proactive equipment servicing and replacing parts and equipment at specified intervals during scheduled outages for necessary work.
The Benefits of Implementing an Effective Preventive Maintenance Program
An effective preventive maintenance program offers these major benefits.
Reducing the cost of repairs. It's always cheaper to find and fix small problems
Reducing or eliminating downtime costs.
Increased safety for employees and others
Reduced risks of fire damage to property
Common services and systems covered by a Preventive Maintenance plan.
Generator service and testing
Switchgear and Panel testing; IR, Mechanical connections, and functionality
UPS
ATS
CRAC Units
What Should be Included in a Preventive Maintenance Program?
It is crucial to have qualified and responsible people designated to implement a preventive maintenance program.
This program should include:
A complete survey and analysis of essential equipment and systems
A priority established based upon operational importance
Regular inspections for signs of fatigue or failure, testing, and servicing equipment at designated intervals based on duty cycles and length of use
Thorough and complete record-keeping
Implementing Preventive Maintenance Denver will benefit your business. Putting off inspections and repairs is guaranteed to cost more in the end. Setting up a preventive maintenance program with the experienced electricians at Lakewood Electric Company, Inc. will bring you peace of mind while you're saving money.
What if something does happen?
If an issue does arise having a preventive maintenance contract in place will ensure a rapid response 24 – 7 by qualified technicians to diagnose the issue and get a corrective action plan in place. Lakewood Electric Company, Inc. has the know-how and experience to design a custom preventive maintenance program to fit your needs.